Achieve Your Career Goals with the Medical Assistant Program!
Clicking the "Get Info Now" button constitutes your express written consent to be called, emailed, and/or texted by Taylor College at the number(s) you provided, regarding furthering your education. You understand that these calls and texts may be generated using an automated technology. To stop texting, reply STOP to unsubscribe. Reply START to resubscribe.
Medical Assisting Program
Medical assistants continue to be one of the most employed and essential health care professionals today. With Taylor College's Medical Assisting program, you can receive your training in a convenient format and work toward your health care career.
Your Role in Medical Assisting
The medical office is a fast-paced environment that requires the assistance of qualified medical personnel. Medical Assistants (MA) are key players in helping to manage the office. Their multitasking abilities enable them to meet the demands of both physicians and patients alike. Medical assistants perform a variety of clinical and clerical skills.
Clinical skills may include:
Taking medical histories and recording vital signs
Preparing patients for examination
Collecting and preparing laboratory specimens
Performing basic laboratory tests on the premises
Preparing and administering medications, as directed
Preparing patient x-rays
Phlebotomy
Performing electrocardiograms (ECG)
Clerical skills may involve:
Updating and filing patient medical records
Completing insurance forms and handling correspondence
Handling billing & bookkeeping
Scheduling appointments, answering telephones and greeting patients
Arranging for hospital admissions and laboratory services
Purchasing supplies and equipment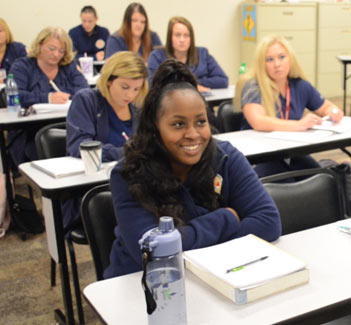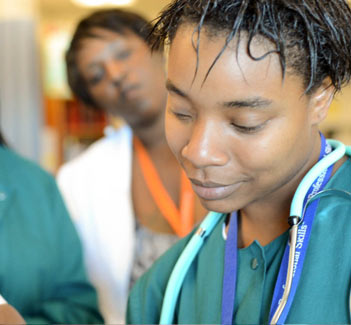 The Taylor College Advantage
While this is an online program, you'll have the opportunity to also gain important in-depth, hands-on experience with on-campus training that includes 120 hours of practical application of clinical skills, patient consultation and medical office protocols. In addition, a 160-hour externship in actual medical facilities will prepare you with the on-the-job skills you will need as an important part of any medical team.
A unique benefit of Taylor College's online Medical Assisting program is the inclusion of phlebotomy training, which prepares students for the Certified Phlebotomy Technician exam, as well as ECG training, which prepares students for the Certified EKG Technician exam. The program also includes OSHA – Bloodborne and Airborne Pathogens Certification.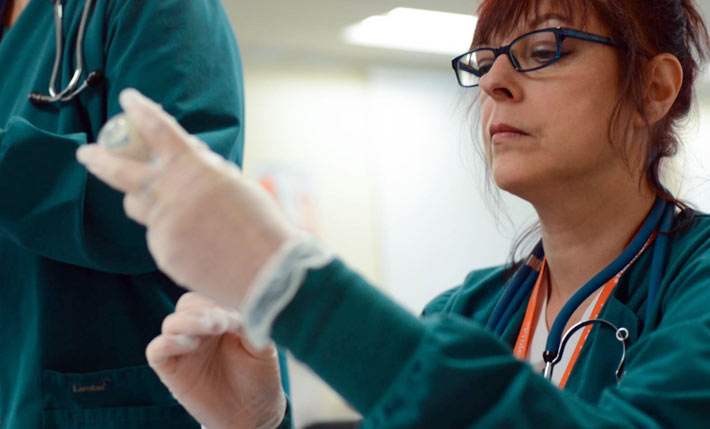 Why a Formal Online Medical Assisting Program is so Important.
It's clear that as the baby-boom generation ages, the medical industry will see an increased demand for medical services. Your role as a medical assistant will be important to perform routine clinical duties and administrative tasks so physicians can dedicate more time to their patients.
Make a genuine difference in the lives of others and work side-by-side with physicians and nurses to assist patients. With Taylor College's online Medical Assisting program, you'll be able to start your medical career in a short period of time without sacrificing the quality of your education! Hear from our Program Director
Careers in Focus: Medical Assisting
If you are compassionate and want to make a difference in your community, you should consider a career as a medical assistant. Medical assistants complete administrative and clinical tasks in a healthcare setting. Check out our infographic to find out what you'll do, where you'll work and the career opportunity for a medical assistant!
Get Medical Assistant Jobs with Your Taylor College Education
With a Taylor College education, you'll have opportunities to apply for medical assistant jobs to some of the most highly sought-after medical employers in the state. Here are just a few of the companies who have hired our graduates:
Promedica
University of Toledo Medical Center
Toledo Clinic

Medical assistants complete administrative and clinical tasks in a healthcare setting.
17.9% expected growth rate in Ohio from 2018 to 2028
https://ohiolmi.com/Home/LToccOhio
18% expected growth rate nationwide from 2020 to 2030
https://www.bls.gov/ooh/healthcare/medical-assistants.htm#tab-6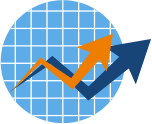 Taylor College's Medical Assisting program meets the educational requirements for credentialing as a Registered Medical Assistant (RMA), a Certified Medical Assistant, (CMA) and a Certified Clinical Medical Assistant (CCMA) in the state of Ohio and in the state of Michigan.
We have not made a determination for the following states*: AL, AK, American Samoa, AZ, AR, CA, CO, CT, DE, DC, FL, GA, Guam, HI, ID, IL, IA, KS, KY, LA, ME, MA, MD, MN, MS, MO, MT, NE, NV, NH, NJ, NM, NY, NC, ND, N. Marianas Island, OK, OR, PA, PR, RI, SC, SD, TN, TX, UT, VA, VT, Virgin Islands, WA, WV, WI, WY
Those who successfully graduate from the Medical Assistant program may be eligible to take the RMA certification exam through AMT, American Medical Technologists; CMA exam through CAAHEP, Commission on Accreditation of Allied Health Education Programs, and CCMA exam through National Healthcareer Association. Approval to take the examination is not automatic. Additional requirements may be necessary for credentialing.
Requirements for credentialing vary among states. In order to locate the credentialing eligibility requirements of another state, please contact the credentialing board of that state.
*If you need additional information on state eligibility or transferability requirements for these states, please contact your Program Director or the Campus Director.
National Level
Taylor College is institutionally accredited by the Accrediting Bureau of Health Education Schools (ABHES).
ABHES is recognized by the Secretary of Education as a national accrediting body determined to be a reliable authority as to the quality of training offered by the educational institutions and programs it accredits. Its approved and recognized scope includes degree and non-degree granting private, postsecondary institutions offering educational programs predominantly in allied health; and the programmatic accreditation of medical assistant, medical laboratory technician, and surgical technology programs. When you attend an ABHES-accredited institution, you are attending a school that has undergone a rigorous process that evaluates educational quality.
State Level
Ohio State Board of Career Colleges and Schools
Taylor College has been granted state approval to confer the Associate of Applied Science Degrees and program Diplomas. http://scr.ohio.gov/
Programmatic Accreditation
Taylor College's Medical Assisting program is accredited by the Accrediting Bureau of Health Education Schools (ABHES), 7777 Leesburg Pike, Suite 314 N, Falls Church, VA 22043; telephone 703-917-9503; website: http://www.abhes.org.
The following are a few of the courses that you'll take as part of the Medical Assisting program:
Anatomy and Physiology Foundations
Introduction to Medical Assisting
Anatomy and Physiology Body Systems
Clinical Examination Procedures
Clinical Laboratory Procedures
Medical Office Procedures
Electronic Health Records
Financial Aid is available for those who qualify. Click here for Financial Aid information.